Lakeland Motor Museum
Ulverston, Cumbria
British Motor Museum
Gaydon, Warwickshire
Temple Newsam House
Leeds
North Norfolk Railway
Holt, Norfolk
Prestatyn, North Wales
Shuttleworth Collection
Biggleswade, Bedfordshire
Waltham Windmill,
Cleethorpes, Lincolnshire
Burrs Country Park, Bury, Lancashire
Burton Agnes Hall, Driffield, East Yorkshire
Haynes Motor Museum, Sparkford, Yeovil, Somerset
Yorkshire Air Museum, Elvington, York
Stanford Hall, Leicestershire
Blair Atholl, Perthshire
Capesthorne Hall, Cheshire
Woburn Abbey, Bedfordshire
Grampian Transport Museum, Aberdeen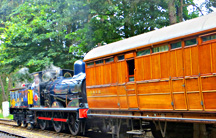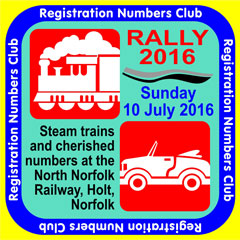 Norfolk was a venue that the Registration Numbers Club had not visited before so on Sunday 10 July 2016 members gathered at the western terminus of the North Norfolk Railway at High Kelling just outside the market town of Holt for an enjoyable day of cherished numbers and historic steam trains. Despite the earlier promises of good weather, the rally day remained cloudy but at least the rain stayed off.
(Train photographs courtesy Colin Cowperthwaite)

PRE-RALLY DINNER 2016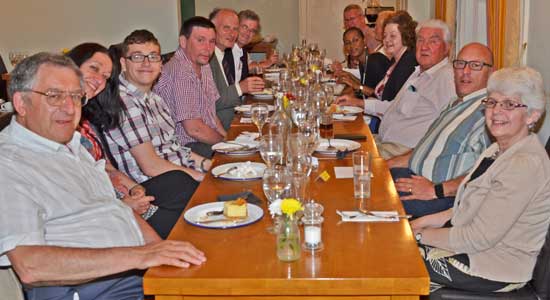 Fifteen club members from locations around the country enjoyed an excellent dinner on the previous
evening at The Lawns Wine Bar & Hotel in Holt where many had also been staying for the weekend

CLASS RESULTS - RALLY 2016
Class A - Amusing or unusual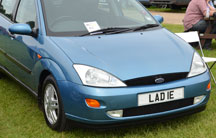 1st - LAD 1E - Darren Moore
(No further entries in this class)
Class B -
Owner's initials, letters first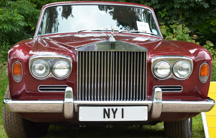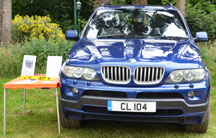 1st - NY 1 - Nicholas Young 2nd - CL 104 - Chris Liles
Class C - Owner's initials, numbers first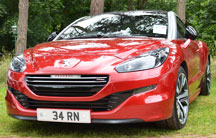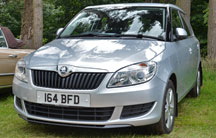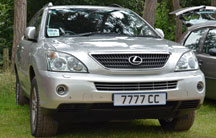 1st - 34 RN - Ruth Nichols Joint 2nd - 164 BFD - Brian Damper & 7777 CC - Colin Cowperthwaite

Class D - Owner's initials with No 1 or other neat number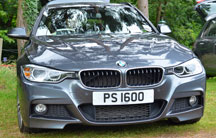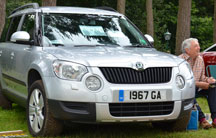 1st - PS 1600 - Phillip Smith 2nd - 1967 GA - Anthony Lee
(The initials of Anthony and his wife and the year they married)

Class E - Owner's initials with date letter/year code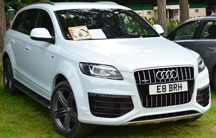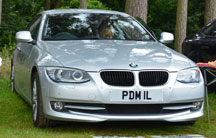 1st - E8 BRH - Bryn Hauxwell 2nd - PDM 1L - Paul D Millsom

Class F - Names - with/without date letter including current system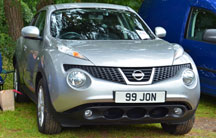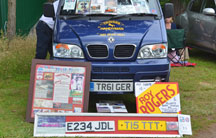 1st - 99 JON - Jon Parsons 2nd - TR61 GER - Roy Rogers

Class G - Pairs or family/company collections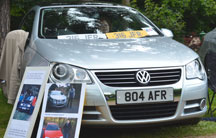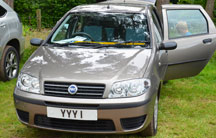 1st - 804 AFR/316 JFR - Chris Forster 2nd - VYP 1/1 VYP/YYY 1 - Simon Instone

Class H - No 1s or other neat numbers, not being owner's initials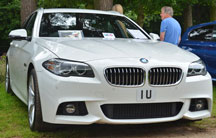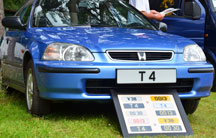 1st - 1 U - John Hudson 2nd - T 4 - Colin Richards

Class J - Registration relevant to owner, vehicle or trade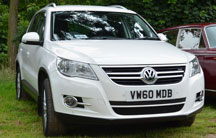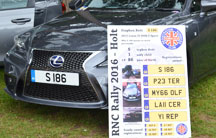 1st - VW60 MDB - Martyn D Benn 2nd - S 186 - Stephen Bott

Class K - Any other cherished number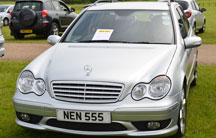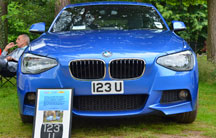 1st - NEN 555 - Alison Lomax 2nd - 123 U - Gareth Hudson

Class L - Classic car with interesting number
(

There was only one entry in this classification so the class was merged with the special awards)
Special Awards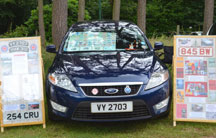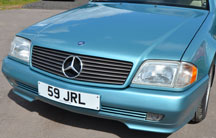 VY 2703 - Cliff & Karen Thoroughgood - Excellent registration history
59 JRL - Rod Lomax - Classic Mercedes SL280



The Noel Woodall Award for 2016 was presented to Simon and Sally Instone

And lastly ...

Our thanks are due to all the helpers, before, during and after the rally. Lewis Portland made sure that all the cars were booked in and displayed neatly along the rally site ... thanks Lewis.
Jeremy and Susan Portland gave us full use of their splendid motorhome as the rally control centre once more, whilst Club Honorary Secretary, Steve Waldenberg (SIW 321) kept everything under control.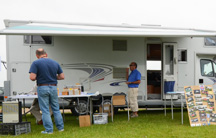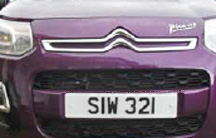 Many very nice prizes had been donated by our sponsor dealers and club members and our thanks are due to all who purchased tickets from Lesley and Alison. By relieving you of your loose change they raised a fine sum to help with the expense of staging our event.

The cherished registration dealers shown on the left also helped us with sponsorship deals to cover some expenses.

Thanks are also due to Pat Woodall who again provided the Noel Woodall trophy in his memory. Whilst it was not possible for Pat to be present this year, she was there in mind if not in person.

DON'T FORGET THAT IN 2017 THE REGISTRATION NUMBERS CLUB WILL CELEBRATE ITS 40TH ANNIVERSARY.
JOIN US AT TEMPLE NEWSAM HOUSE, NEAR LEEDS ON SUNDAY 16TH JULY 2017 TO ENJOY THE CELEBRATIONS