---
Home | Newsletter | Rally | PR | Member Sales | Club Shop | Links | Join
---
---
ASSOCIATIONS & NEWSLETTERS
---

1903 And All That - is published by RNC Advisor & Archivist, John Harrison, a veritable knowledge base when it comes to both UK and Irish vehicle registrations. This quarterly newsletter covers a variety of areas such as statistical number plate information, area allocations, historical information, newspaper cuttings related to registrations, DVLA auction results, current news and, of course, John's own inimitable introduction every quarter.
Subscriptions cost only £10.00 per year from John Harrison, 175 Hillyfields, Loughton, Essex IG10 2PW. He will gladly send you a sample copy on receipt of an A4 size envelope complete with a 'large letter' 100 gram stamp.
John does not currently have a web site, but you can obtain further information by telephoning him on 020 8508 8851 (evenings please) or email him by copying the following into your programme:

---

Automobile Licence Plate Collectors Association - founded in 1954 and dedicated to the promotion of licence plate collecting and research, the exchange of information and plates, as well as the benefits of sharing a common interest with others throughout the world.
The biggest licence plate collectors organisation in the world, ALPCA has around 3000 members from 50 north american states and 19 countries.
The club magazine - The ALPCA Register - is published 6 times per year. For more information on this association log on to - www.alpca.com
---

The European Registration Plate Association - produces a quarterly 32 page A4 publication entitled 'europlate newsletter' which deals with the amazing variety of vehicle registration plates issued by countries outside the UK. Now in its 35th. year of publishing it will be of interest to both enthusiasts and collectors of overseas registration plates alike. Its May issue contains a membership directory giving contact details for all paid up members.
Europlate also publishes the well respected books 'The Interpol Guide to Vehicle Registration Plates' and 'Registration Plates of the World', the fourth edition of the latter issued in Spring 2004.
Membership of the association commences on 1 January each year. Please contact europlate editor John Weeks for more information at 14 Manor Road, Chedzoy, Bridgwater, Somerset TA7 8QZ, UK, or visit www.europlate.org
---
AUCTIONS
---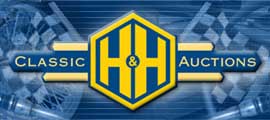 H & H Classic Auctions - run by classic car enthusiasts Simon Hope and Mark Hamilton has become one of Europe's largest specialist auction houses since its launch in 1993. The company holds regular sales of historic motor cars, motorcycles and related automobilia at its Buxton venue and at other locations around the country. Company vehicles carry a variety of cherished registrations including B1 DHH, 11 OPE, 25 HH, HH 9900 and TEN 14.
Contact them at H&H Sales Ltd., The Motor House, Lyncastle Road, Appleton, Warrington, Cheshire WA4 4SN, email: info@handh.co.uk or visit www.classic-auctions.com
---

DVLA - the Driver and Vehicle Licensing Agency is the government department responsible for registering and licensing motor vehicles. Since 1989 this agency has been responsible for the sale of a complete range of cherished plates to the general public from previously un-issued government stock. A registration can be purchased within certain specific criteria from its personalised range and other more attractive plates are available at various auction sales throughout the year. Contact the DVLA by telephone on 0870 6000 142 or visit their web site - www.dvlaregistrations.direct.gov.uk
---
BOOKS AND MAGAZINES
---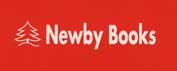 Car Registrations in the British Isles - is written and produced by RNC member Peter Robson of Newby Books in Yorkshire. Covering the story of British Registration marks from 1903 to the present day, this is a well produced 116 page A5 size book with lots of colour illustrations and extremely good value for money, retailing at just £9.95.
It features one-, two-, and three letter marks, suffixes and prefixes, the new system, offshore island marks, cherished numbers and how to obtain them, civic and diplomatic registrations, and there is even a section covering military vehicle marks.
Further information is available by contacting Newby Books, P O Box 40, Scarborough YO12 5TW. Tel/Fax: 01723 362713 or visit www.newbybooks.co.uk
This book is also available post free from the Registration Numbers Club head office in Leeds.
---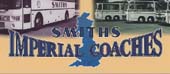 It's a pleasure : It's Smiths - written and compiled by RNC member Roger Smith who retired recently after closing the family coach business in Birmingham which his grandfather started in 1924. Most of the company's fleet of coaches have carried cherished registration numbers throughout their lives and this 116 page A4 publication covers their history pictorially, also listing coach types with registration numbers and transfers.
Mainly in black & white with around fifteen colour pages, this is an interesting publication for the transport enthusiast as well as those interested in viewing some fairly early cherished plates.
The book, priced at £10.95, is available direct from the author - www.smithscoaches.co.uk
---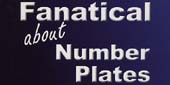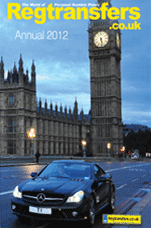 Fanatical about Number Plates - written, edited and compiled by Ruby Speechley of number plates dealer Regtransfers.co.uk, this is a 300 page full colour A5 hard back book which covers the private number plates market today and features the stories behind the people who purchase them. A very interesting publication which contains general information about registrations, historical information, owners stories, and a useful section listing addresses of Local Vehicle Registration Offices in England and Wales.
Annual 2012 - Also available from Regtransfers.co.uk is the company's 2012 annual, a new publication to mark its 30th anniversary year which features articles from recent magazines plus lots of new information, stories and features. A 198 page hardback 'coffee-table' compendium.
Both are available from Regtransfers.co.uk, 139 High Street, Dunstable, Bedfordshire LU6 3SS, or visit their website - www.regtransfers.co.uk
---
How to trace the history of your car - written by Philip Riden is an extremely useful little publication. When searching for the history of your registration number, DVLA is not the best source of information, but rather the archives of the original authority which issued the number.
Many of these old records are still retained by local authorities and contact details for those surviving are listed in this book which is priced at just £5.95.
For further information visit - www.merton.dircon.co.uk
---

What's that new mark ? - written by Bob Rowe and published by Venture Publications is a pocket sized reference book covering the 2001 motor vehicle registration scheme (51, 02 etc) and also giving some historical information about British marks. 1903 origins, three letter, suffix and prefix plates are covered with cherished numbers briefly reviewed. Ideal to leave in the car as a point of reference.
Available at a bargain price of just £2.75 + £0.50 post & packing from MDS Book Sales, Freepost SK2162, 128 Pikes Lane, Glossop, Derbyshire SK13 8YF or on-line at - www.mdsbooks.co.uk
---
Number Plates - by Dave Moss is a Shire Book in association with the Michael Sedgwick Trust and is basically a history of vehicle registration in Great Britain. This A5 sized publication covers the late 1800's Locomotive and Highways Acts leading to the Motor Car Act of 1903 and travels through a century to the present day system. Cherished plates are also featured to a lesser degree.
This publication is available from Shire Publications Ltd., Cromwell House, Church Street, Princes Risborough, Buckinghamshire HP27 9AA at a cost of £3.50 post free. You can also order it by visiting their website - www.shirebooks.co.uk
---

Classic Cars - a leading publication dealing, as the title suggests, with the interesting world of classic cars ... an essential read for all enthusiasts with many valuable features and reviews each month including a large 'for sale' section, a regularly updated valuation guide, a section covering automobilia and a list of classic car events throughout the country and overseas.
The publishers web site is full of interesting and useful information. You need to register with a user name and password, which is free of charge, and after that you can just log straight on. A listing of car and associated clubs, in which the RNC is featured, is included and gives full contact details.
The magazine is available from most newsagents or by contacting the publishers at Classic Cars Magazine, Media House, Lynchwood, Peterborough PE2 6EA or on-line at - www.classiccarsmagazine.co.uk
---
CARS AND COMPONENTS
---

Romo Hoses - specialises in producing limited hand made runs of radiator and cooling system hoses for a wide range of classic cars dating back to the 1930's.
People spend years restoring a classic car, then use radiator hoses that are past their sell-by date. These vital components are becoming more and more difficult to find at autojumbles and the like so it makes sense for classic car clubs to invest in a small supply of hoses for sale to their own members.
For more information email sales@romohoses.co.uk or visit their web site where the full range of hoses currently available is listed - www.romohoses.co.uk
---
MUSEUMS & COUNTRY HOUSES
---

Yorkshire Air Museum - was the venue for the 2009 RNC rally on Sunday 5 July. With the longest runway in northern England, RAF Elvington saw BBC TV 'Top Gear' presenter Richard Hammond crash spectacularly in 2006. Originally a grass airfield and rebuilt in 1942, the site has seen the highest number of post war speed record attempts. Further details available at - www.yorkshireairmuseum.co.uk
---

Stanford Hall - built in the 1690s for Sir Roger Cave and situated near Lutterworth, Leicestershire, is still home to his descendants today and is one of the most exquisite examples of the architecture of the period. This was the location for the RNC summer rally on 6 July 2008. For further details please visit - www.stanfordhall.co.uk
---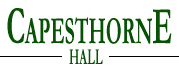 Capesthorne Hall - set in 100 acres of parkland near Macclesfield in rural Cheshire was the setting for the RNC annual rally on 1 July 2007. It has been the family home of the Bromley Davenports since 1726 and today is occupied by the present Squire, William Bromley Davenport, Lord Lieutenant of Cheshire and his American wife Elizabeth. For more information visit - www.capesthorne.com
---
The Lakeland Motor Museum - established in 1978 at Holker Hall, Cartmel, Grange over Sands, Cumbria, features cars, motorcycles and light commercials as well as a superb collection of automobilia. There is also the Campbell Bluebird Legend exhibition, the Hall itself of course with its award winning gardens, the courtyard cafe, Food at Holker and the Holker gift shop.
For more information on the Lakeland Motor Museum visit - www.lakelandmotormuseum.co.uk
For more information on Holker Hall itself visit - www.holker-hall.co.uk
---
Cars of the Stars - the world famous museum of vehicles from film and television is based in Kendal, Cumbria and opened its doors in 1989. Well worth calling in ! For more information visit - www.carsofthestars.com
---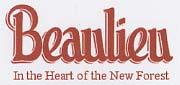 The National Motor Museum - at Beaulieu, Hampshire in the heart of the New Forest, houses a unique world renowned collection of vehicles and automobilia managed by the National Motor Museum Trust. Beaulieu is also the home of the world famous Beaulieu International Autojumble and Automart. For further details visit - www.beaulieu.co.uk
---

Woburn Abbey - in Bedfordshire is set in a beautiful 3,000 acre deer park, with 10 species of deer roaming free and has been home to the Dukes of Bedford for nearly 400 years. Today it is occupied by the 15th Duke and his family. The RNC held its annual rally there in 2006. For further details visit - www.woburnabbey.co.uk
---
RALLY SPONSORS
---
Regtransfers.co.uk - sponsors the marquee used at the Registration Numbers Club annual rally. Established in 1982, the company offers a wide selection of private number plates, has a fully searchable on-line data base, provides a free magazine and a regular prize draw. Many associated services are also featured. Contact Regtransfers.co.uk, 139 High Street, Dunstable, Bedfordshire LU6 3SS, telephone 01582 477333 or visit - www.regtransfers.co.uk
---

Simply Registrations - sponsors the rally site costs for the Registration Numbers Club annual rally and is run by personalised number plates enthusiast James Saperia. Having supplied registrations via other dealers for many years, James now deals direct with his clients. Contact Simply Registrations Ltd., 52 Goldsmith Drive, Robin Hood, Wakefield WF3 3TF, telephone 0113 288 7553, email james@simplyregistrations.co.uk or visit www.simplyregistrations.co.uk
---
SPONSORED LINKS
---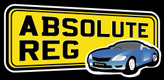 Absolute Reg - the company was founded in 2010 to provide British vehicle owners with the largest, most affordable selection of private number plates possible and to make the whole process of buying and registering personalised registration plates smooth, fast and affordable. For more information please contact Absolute Reg by email at info@absolutereg.co.uk or by phone on 0203 504 5957 or visit https://absolutereg.co.uk
---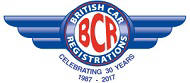 British Car Registrations - aims to provide registration marks with a competitive price and a highly professional service. The company, which celebrated 30 years in business during 2017, employs experienced staff to coordinate the entire process and for convenience offers an online tracking facility to show the progress of your transfer 24/7. Contact BCR at Midland House, Chester Road, Streetly, Sutton Coldfield, Birmingham B74 3ED, or by email at sales@britishcarregistrations.co.uk , by telephone on 0121 353 3333 or visit https://britishcarregistrations.co.uk
---
Chestnut Registrations Ltd
Chestnut Registrations - buys and sells a full range of cherished registrations, offering a personal service and online purchase via a secure server. It also manufactures black & silver, acrylic, metal and pressed steel number plates all offered with free postage and from a DVLA registered supplier. Contact Chestnut Registrations, P O Box 333, Crosby, Liverpool L23 2WB, telephone 0151 924 6480 or 4181, fax 0151 931 3531 or visit - www.chestnut-registrations.co.uk
---

License Plates of the World - an interesting sponsored site for the avid licence plate collector. There are hundreds of illustrations, plates for sale links, and a searchable data base covering most countries throughout the world. Visit www.worldlicenseplates.com
---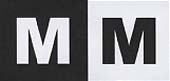 MotorMarks - run by RNC member Martin McLaughlin, a well respected number plate dealer, who also hires classic cars and American limousines for that special occasion. Visit - www.americandreamcars.co.uk Contact Motor Marks, Macamay House, 155 Gynsill Close, Anstey, Leicestershire LE7 7AN, telephone 0116 235 0116 or visit - www.motormarks.co.uk
---

National Numbers - a family owned and run business established in 1980, the company sells its own stock of cherished plates as well as client owned, DVLA and DVLNI registrations. Its website offers a price guarantee, features an online search facility and provides a unique free instant valuation service. Contact National Numbers, The Grange Business Centre, Billingham, Cleveland TS23 1LG, telephone 01642 363738 or visit - www.nationalnumbers.co.uk
---
Nice-Reg.co.uk
This site is owned and operated by RNC member David Harold from Manchester. It features useful number plate information, photographs of cherished plates, some other UK sites/links, world number plate information and some dealers. Says David a Nice-Reg is a number plate to be proud of ! Visit him at www.nice-reg.co.uk
---
Number Plate Classifieds - the company was formerly known as Smashing Plates but has rebranded to more accurately describe exactly what it does. It offers a different approach to buying and selling cherished registrations by providing paid online advertising bringing buyers and sellers together without involving commission. Contact the company by email - info@smashing-plates.com or visit www.numberplateclassifieds.co.uk The company also has a numberplate 'app' to convert words into UK plate combinations. Click on the logo above to access it.
---
The Plate Market - sell number plates privately on The Plate Market. No dealer commission. Buy number plates direct from the seller. Thousands of personal number plates for private sale. Buy your registration number securely - transfer service available for that extra peace of mind. Visit - www.theplatemarket.com
---

Plate-trader - claims to offer a buying and selling service for cherished number plates that is different and simple. It offers buyers and sellers the opportunity to deal with each other directly with no commission so you keep 100% of the selling price. Ads on the site are ranked high in Google listings and each ad carries a unique web address. Contact Karl on 0843 289 5832 or email admin@plate-trader.com or visit - www.plate-trader.com
---

PNA - is the UK's number one source for all varieties of cherished registration numbers. We have millions of numbers on our database which we have logged over the last 33 years. We specialise in the purchase and sale of private registration numbers, offering our unique "Mix & Match" service that is unrivalled in the trade. Contact PNA Ltd., Courtfield House, 44A Shelbourne Road, Bournemouth, Dorset BH8 8QY, telephone 01202 877395 or email sales@pna.co.uk or visit - www.pna.co.uk
---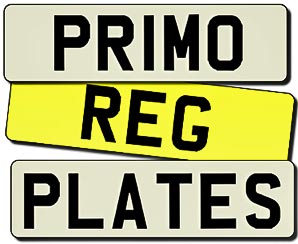 Primo Registrations Ltd - offers a searchable database of 40 million number plates and claims to have the lowest prices on the internet with plates available from just £99. It is available from 9am - 8pm 7 days per week and also offers online 24/7 secure ordering. Contact Primo Registrations Ltd, Transfer House, PO Box 489, Fleet, Hampshire GU51 9FL, telephone 01252 491111 or visit - www.primoregistrations.co.uk
---

Reg4Vehicles.co.uk - has been supplying the very best DVLA Personalised car number plates and Cherished Car Registration numbers since 1988. Buying or selling a personalised car number plate or car registration mark? Look no further... your ideal car registration number plate will be listed here if it is currently up for sale. Contact Reg4vehicles, P O Box 4444, Leicester LE3 9YX, telephone 0116 242 5353, visit www.r4v.co.uk or - www.reg4vehicles.co.uk
---
Tayside Numbers - is a long established company owned by David Bruce, well known in number plate circles. The company is Scotland's leading cherished number plate dealer and is a member of MIRAD. It has a fully searchable database and holds stocks of client numbers for sale. It also offers secure 24/7 online ordering. Contact Tayside Numbers, P O Box 1, Arbroath, Scotland DD11 3YL, telephone 01241 430531 or visit - www.tayside.com
---
Home | Newsletter | Rally | PR | Member Sales | Club Shop | Links | Join
---
Registration Numbers Club
---
All contents copyright 2000-2020 © Registration Numbers Club. All rights reserved.
The ownership and copyright of images and logos belonging to individual organisations is acknowledged.
Page last updated - Tuesday, 28 January 2020 16:44