---
Home | Newsletter | Rally | PR | Member Sales | Club Shop | Links | Join
---
Rally 2010 | Rally 2009 | Rally 2008 | Scottish Meeting 2008 | Rally 2007 | Rally 2006 | Scottish Rally 2006
RNC SCOTTISH AREA REGIONAL MEETING
Blair Atholl, Perthshire, Scotland
Tuesday 27 May 2008
Well known Scottish member, Sam Murray, organised a meeting north of the border on Tuesday 27 May 2008 centred around Blair Atholl village and its castle, which is the traditional home of the Earls and Dukes of Atholl.
This beautiful area is known as the gateway to the Cairngorms with plenty of interest in the vicinity including Aberfeldy, Blairgowrie, Killiecrankie and Pitlochry all within striking distance. Members met at the castle, toured the historic building followed by a scenic drive around Loch Tummel. The evening concluded with a dinner at nearby Pitlochry Golf Club.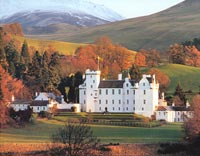 Visit www.blairatholl.org.uk and www.blair-castle.co.uk for more information about the area and the castle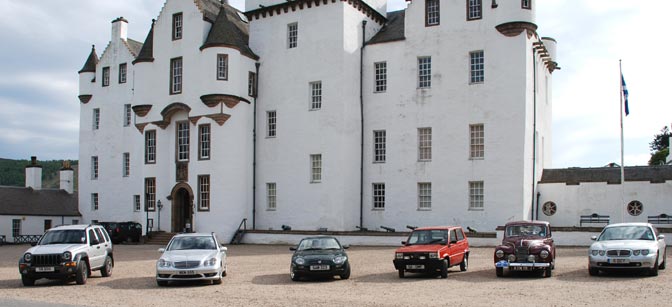 Club members display at Blair Castle - SB 500, NEN 555, SAM 323, 511 DMF, KTM 111 & 5 DCY
Rally 2010 | Rally 2009 | Rally 2008 | Scottish Meeting 2008 | Rally 2007 | Rally 2006 | Scottish Rally 2006
---
Home | Newsletter | Rally | PR | Member Sales | Club Shop | Links | Join
---
Registration Numbers Club, 39 Winding Way, Leeds LS17 7RG
---
All contents copyright 2000-2014 © Registration Numbers Club. All rights reserved.
Page last updated - Tuesday, 28 January 2020 16:44