North Norfolk Railway
Holt, Norfolk
Prestatyn, North Wales
Shuttleworth Collection
Biggleswade, Bedfordshire
Waltham Windmill,
Cleethorpes, Lincolnshire
Burrs Country Park, Bury, Lancashire
Burton Agnes Hall, Driffield, East Yorkshire
Haynes Motor Museum, Sparkford, Yeovil, Somerset
Yorkshire Air Museum, Elvington, York
Stanford Hall, Leicestershire
Blair Atholl, Perthshire
Capesthorne Hall, Cheshire
Woburn Abbey, Bedfordshire
Grampian Transport Museum, Aberdeen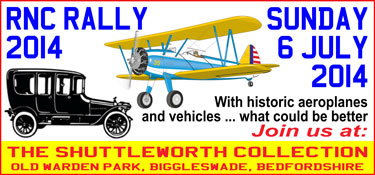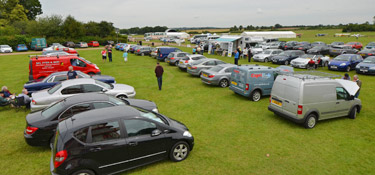 For 2014 our club rally moved towards the south east, and on Sunday 6 July we met up at the Shuttleworth Collection, near Biggleswade in Bedfordshire. Nearly fifty vehicles arrived at this excellent venue by late morning, the weather being kind to us allowing members to picnic on the well trimmed Old Warden Park grass site.
On the previous evening members and guests enjoyed an excellent hot and cold fork buffet at The Barns Hotel in nearby Cardington, where they dined by the side of the River Great Ouse whilst watching the many pleasure boats out for an evening cruise along with a variety of wildlife on the banks of the river.
CLASS RESULTS - RALLY 2014
Class 'A' - Amusing or unusual

1st - Nathan Pestridge - RUG 8Y

2nd - Darren Moore - LAD 1E

Class 'B' - Owners initials, letters first

1st - Hayley Rebecca Holmes - HR 11

2nd - Elwyn Evans - EE 8

Class 'C' - Owners initials, numbers first

1st - Darren Bishop - 20 DB

2nd - William Halon - 7 WH

Class 'D' - Owners initials with date letter

including new format

1st - Amos B Mansell - AM05 ABM

2nd - Colin R Sneezum - F1 CRS

Class 'E' - Names with/without date letter

1st - Jon North - NOR 7H

2nd - Alan Filby - F1 LBY

Class 'F' - Pairs / collections

1st - Steve & Cliff Gee - GEE 47 / GEE 144

2nd - Rod Lomax - 59 JRL / S9 JRL

Class 'G' - No 1s or other neat numbers

- not owners initials

1st - John Hudson - 1 U

Joint 2nd - Simon & Sally Instone - VYP 1 / 1 VYP

Colin Richards - T 4

Class 'H' - Number relevant to owner/trade or car

1st - Neil Ives - LOO 92 (Plumber)

2nd - Robert Chester - CRA 4D

(Crayford Corsair Convertible)

Class 'J' - Interesting number in current format

Unfortunately there were no entries in this class

Class 'K' - Any other cherished number

1st - Alison Lomax - NEN 555

2nd - Cliff & Karen Thoroughgood - YHK 310

Class 'L' - Classic car with original or period number

1st - Alan Filby - DG 3005 - 1934 Morris Minor

2nd - Eric Billingham - JYL 683 - 1948 Wolseley 14/6

Special awards

Jon Parsons - 99 JON Colin Sneezum - F1 CRS

Chris Forster - PEA 1L Roy Drouet - RRD 3 / 3 RRD

These cover displays of UK/worldwide registration plates, tax disc collections (especially if they refer to the number on show), history displays of the number on show or other photographic displays relevant to cherished numbers

The NoŽl Woodall Award was presented by Pat Woodall in memory of the late NoŽl to:

Cliff & Karen Thoroughgood
1st - Neil I 9 2 (P
Many thanks to all who supported the 2014 dinner and rally making the weekend such an enjoyable event.

A special thanks also to everyone who kindly helped out both before, during and after the event.
Once again many organisations and individual members had donated prizes and our prize draw ticket sellers did their best to relieve members of their cash to help with the not inconsiderable expense of running the club and the annual rally.
And last, but not least, thanks are due to Pat Woodall who provided, and came along to present, an award in memory of the late NoŽl who will be remembered and sadly missed by all those involved with cherished registration numbers.
2014 SPONSORSHIP
The Registration Numbers Club would like to thank all its valuable rally sponsors who help to make a success of our events
www.numberplateclassifieds.co.uk
Number Plate Classifieds sponsors the rally programme
Primo Registrations sponsors the rally trophies
Regtransfers sponsors the rally motorhome hire
Tayside Numbers sponsors the rally site costs
If you are interested in sponsoring our event in 2015 please
contact Rod at pr@TheRNC.co.uk for
further details