North Norfolk Railway
Holt, Norfolk
Prestatyn, North Wales
Shuttleworth Collection
Biggleswade, Bedfordshire
Waltham Windmill,
Cleethorpes, Lincolnshire
Burrs Country Park, Bury, Lancashire
Burton Agnes Hall, Driffield, East Yorkshire
Haynes Motor Museum, Sparkford, Yeovil, Somerset
Yorkshire Air Museum, Elvington, York
Stanford Hall, Leicestershire
Blair Atholl, Perthshire
Capesthorne Hall, Cheshire
Woburn Abbey, Bedfordshire
Grampian Transport Museum, Aberdeen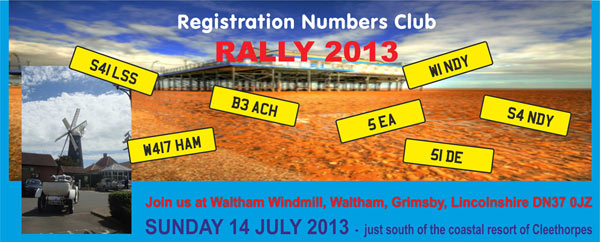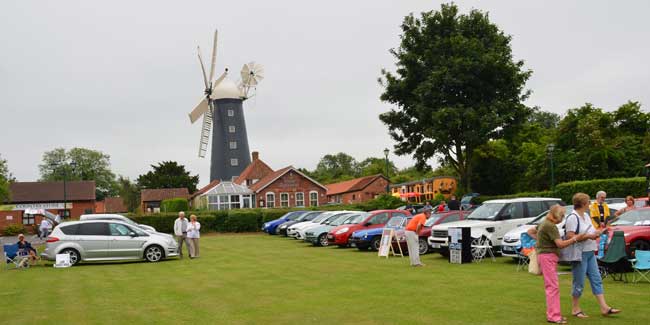 In 2013 our rally moved to the north east of Lincolnshire where club members met up on Sunday 14 July at the delightful setting of Waltham Windmill just a few miles inland from Grimsby and the coastal resort of Cleethorpes.
Whilst entry numbers were slightly down this year, the site provided those who ventured to the east of the country with a good range of things to do including a well presented pre-war museum, the iconic windmill, some interesting craft shops and a miniature railway which was running all day. The usual refreshment areas were also available.
On the evening prior to the rally a dinner for members and partners took place at Clee House Hotel & Bistro in Cleethorpes.
CLASS RESULTS - RALLY 2013
Class 'A' - Amusing or unusual

1st - John Steele - RU 18

2nd - Darren Moore - LAD 1E

Class 'B' - Owners initials, letters first

1st - David R James - DRJ 1

2nd - Fred Leigh - FL 3

Class 'C' - Owners initials, numbers first

1st - Nathan Pestridge - 3 P

2nd - Darren Bishop - 20 DB

Class 'D' - Owners initials with date letter

including new format

1st - Neil Carter - Y18 NCC

2nd - Dennis L Barber - X2 DLB

Class 'E' - Names with/without date letter

1st - Maureen May - MAY 79

2nd - Jonathan North - NOR 7H

Class 'F' - Pairs / collections

1st - Graham Stanley - 7 GES / GES 7

2nd - Sue Smith - M10 HMY / OH10 VER

Class 'G' - No 1s or other neat numbers

- not owners initials

1st - Colin Richards - T 4

2nd - Jack Collins - E1 WPH

Class 'H' - Number relevant to owner/trade or car

1st - David Siddall - DSP 39V (DS Printers)

2nd - Colin Cowperthwaite - C12 FEB (Birthday)

Class 'J' - Interesting number in current format

There were no entries in this class

Class 'K' - Any other cherished number

1st - Simon Beveridge - TBE 766

2nd - Cliff & Karen Thoroughgood - VY 2703

Class 'L' - Classic car with original or period number

1st - Tony Gaziano - TER 350

(1951 Bentley)

2nd - Mark Skinner - B16 JNS

(1964 Mercedes 230SL)

Special awards

Simon Beveridge - TBE 766

(a superbly turned out truck)

Paul Evans - 9999 PE

(despite his disability Paul always arrives)

Tony Harrop - CL10 GTS

(perfect for his Renault Clio GTS of course)
A big thank you to all who supported the 2013 dinner and rally helping to make the weekend so enjoyable as did the excellent very warm summer weather.
Whilst we did have a cloudy morning, thankfully the sun shone on our prize giving in the late afternoon allowing many
members to continue enjoying the lovely surroundings.
A special thanks also to everyone who kindly helped out both before, during and after the event.
Various organisations and individual members had donated prizes and our prize draw ticket sellers managed to relieve members of their cash to help with the not inconsiderable expense of running the club and the annual rally.
SPONSORSHIP
The Registration Numbers Club would like to thank all its valuable rally sponsors who help to make a success of our events
MotorMarks sponsors the rally trophies
www.numberplateclassifieds.co.uk
Number Plate Classifieds sponsors the rally programme
Regtransfers sponsors the rally marquee
Tayside Numbers sponsors the rally site